NotebookPartner.hu
»
ASUS Netbook Asus
»
ASUS T101MT-BLK024M Netbook Asus
»
ASUS ASUS EEE-PC T101MT 10,1/Intel Atom N450 1,66GHz/2GB/320GB/Windows 7 HP fekete netbook ASUS netbook mini notebook T101MT-BLK024M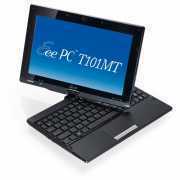 ASUS ASUS EEE-PC T101MT 10,1/Intel Atom N450 1,66GHz/2GB/320GB/Windows 7 HP fekete netbook ASUS netbook mini notebook
Képernyő méret: 10,1"-os
Felbontás: WSVGA (1024x600)
CPU: Intel Atom N450 (1,66 GHz,512 KB)
HDD: 320 GB,5400 RPM,SATA
RAM: 1 x 2 GB DDR2-800
VGA: Intel GMA 3150
Operációs rendszer: Windows 7 Home Premium
WLAN: b/g/n
Webkamera: 0,3 megapixel
Bluetooth: 2.1 + EDR
Kártyaolvasó: Igen
USB: 3 x USB 2.0
VGA: 1 x VGA
LAN (RJ45): 10/100
Adapter: 36 W
Nettó súly: 1,3 kg
Méret: 264 x 181,4 x 31 mm
Egyéb: Védőtok
ASUS T101MT-BLK024M Netbook Asus
Kínálatunkban 2010.12.13 szerepelt utoljára
Képernyő méret: 10,1"-os, Felbontás: WSVGA (1024x600), CPU: Intel Atom N450 (1,66 GHz,512 KB), HDD: 320 GB,5400 RPM,SATA, RAM: 1 x 2 GB DDR2-800, VGA: Intel GMA 3150, Operációs rendszer: Windows 7 Home Premium, WLAN: b/g/n, Webkamera: 0,3 megapixel, Bluetooth: 2.1 + EDR, Kártyaolvasó: Igen, USB: 3 x USB 2.0, VGA: 1 x VGA, LAN (RJ45): 10/100, Adapter: 36 W, Nettó súly: 1,3 kg, Méret: 264 x 181,4 x 31 mm, Egyéb: Védőtok
Asus Eee PC T101MT gyártói weboldal
Asus Eee PC T101MT
Műszaki adatok:
Display
10.1" LED Backlight/ Resistive Multi-Touch Panel(1024x600)
CPU and Chipset
Intel and reg; Atom and trade; N450
Memory
Starter: 1GB DDR2 Home Premium: 2GB DDR2 Memory door for upgrade (Up to 2GB)
Wireless Data Network
802.11b/g/n @2.4GHz Bluetooth2.1 + EDR *Optional
Hybrid Storage
160GB HDD + 500GB ASUS WebStorage (Starter) 320GB HDD + 500GB ASUS WebStorage (Home Premium)
Camera
0.3M Pixels
Audio
Hi-Definition Audio CODEC Stereo Speakers High Quality Mic
Input / Output
1 x VGA Port (D-sub 15-pin for external monitor)
3 x USB 2.0,
1 x LAN RJ-45
2 x Audio Jack (Head Phone / Mic-in)
Card Reader: MMC/SD supported SDHC capacity up to 32GB SDXC, in High Speed (HS) and Default Speed (DS) modes, and max. capacity up to 2TB
Battery
6.5 hrs, 35Wh Slim and Eco-friendly Li-polymer Battery *Operation lifetime subject to product model, normal usage conditions and configurations. For more information, please visit here. The estimated maximum battery life in Windows and reg; 7 is measured with MobileMark and reg; 2007.
Dimensions
264mm(W)x181mm(D)x31mm(H)
Weight
1.3 Kg (2.86lbs)
Custom Search