NotebookPartner.hu
»
ASUS Netbook Asus
»
ASUS EPC14DNBK003X Netbook Asus
»
ASUS 1004DN-BLK003X EEE-PC 10/N280/1GB/120GB/DVD-RW XP Home Fekete ASUS netbook mini notebook EPC14DNBK003X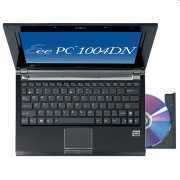 ASUS 1004DN-BLK003X EEE-PC 10/N280/1GB/120GB/DVD-RW XP Home Fekete ASUS netbook mini notebook
10" WSVGA (1024x600)ATOM 1.66G Intel Atom N280
512K L2 cache
667 MHz FSB
Intel GN40,,10/100 Mbps Ethernet,WiFi 802.11n,Bluetooth,1GBMB
DDR2,120GB HDD,DVD-RW,1.3 Mega Pixel Video camera,Hi-Definition audio CODEC
Built-in stereo speaker
Built-in microphone,3x USB 2.0; 1x VGA; 1x SD/MMC card reader(SDHC); 1x Audio in; 1x Audio out;1x FingerPrint; 1x Express Card,5.9hrs (6 cells
5200mAh) 1.45Kg
XP Home system
ASUS EPC14DNBK003X Netbook Asus

Kínálatunkban 2010.06.09 szerepelt utoljára

10" WSVGA (1024x600)ATOM 1.66G Intel Atom N280, 512K L2 cache, 667 MHz FSB, Intel GN40,,10/100 Mbps Ethernet,WiFi 802.11n,Bluetooth,1GBMB, DDR2,120GB HDD,DVD-RW,1.3 Mega Pixel Video camera,Hi-Definition audio CODEC, Built-in stereo speaker, Built-in microphone,3x USB 2.0; 1x VGA; 1x SD/MMC card reader(SDHC); 1x Audio in; 1x Audio out;1x FingerPrint; 1x Express Card,5.9hrs (6 cells, 5200mAh) 1.45Kg, XP Home system

Stylishly Versatile, Effortless Convenience

# Large LED backlit display and keyboard layout for comfort
# Long battery life with ASUS´ exclusive Super Hybrid Engine
# 130GB Hybrid Storage to store, share and access anytime, anywhere
# Super-Multi optical disc drive (ODD) for more multimedia entertainment
# Fingerprint scanner for secured data protection

Operating System Genuine Microsoft Windows and reg; XP Home
Display 10" LED Backlight WSVGA screen (1024x600)
Intel CPU and Chipset Intel and reg; Atom and trade; N280/GN40
(Integrated GMA 4500M graphics core)
Memory 1GB DDR2

*Memory size may differ and is upgradable, please contact local dealers for more details.
Wireless Data Network WLAN: 802.11b/g/n @2.4GHz
Bluetooth V2.1 + EDR
Storage 120 GB HDD
10GB Eee Storage

*Eee Storage service is complimentary for the first 18 months. Please register account information for 6 months extension (depend on country)
Optical Drive ODD with SATA DVD Super Multi drive
Camera 1.3M Pixel
Audio Sereo speakers
High-Definition Audio CODEC
Digital Array Mic
Input / Output 1 x VGA Port (D-sub 15-pin for external monitor)
3 x USB 2.0
1 x LAN RJ-45
2 x Audio Jack (Head Phone / Mic-in)
1 x 8-in-1 card reader : MMC, SD, MS, MS-Pro, xD card slot, mini-SD via adapter, MS Duo via adapter, MS-Pro Duo via adapter
1 x Express card/34 support
1 x Fingerprint
Battery 6-Cell Li-ion Battery, 5.9hrs*

*Operation lifetime subject to product model, normal usage conditions and configurations. Learn more about battery life >>
Dimensions 277 mm (W) x 194 mm (D) x 274 mm (H)
Weight 1.45Kg(3.20lbs)
Infusion UV Coating: Graphite, Champagne

Exquisitely Designed for Stylish Computing On-the-go
The Eee PC utilizes Infusion Technology, which is a cutting edge manufacturing process that produces uniquely-designed laptop surfaces. Inlaid within the chassis itself, the motifs are coated in a scratch-resistant and hard-coated surface that forms an integral part of the entire laptop—ensuring that they will not fade with time.

Elegant Brushed Aluminum Palm Rest
Gorgeous brushed aluminum graces the palm rest while an electroplated frame surrounds the keyboard assembly, adding a hint of class to an already astonishingly beautiful design

Long Battery Life for Uninterrupted Computing
With the exclusive ASUS Super Hybrid Engine´s increased power efficiency, the Eee PC and trade; can deliver an impressively long battery lifespan, 5.9 hours*—eliminating worries about power while on-the-go and easily keeps users connected for full day, unplugged computing.

*Subject to system configuration and/or usage.

Comfortable and Convenient User Experience

92% of generic Chiclet keyboard for comfortable during prolonged use. Enjoy video conferencing with 10" display, 1.3megapixel built-in webcam and Digital Array Mic while on the move.

Restore the system back to its original factory settings easily via the "F9" System Recovery key (XP only).

With the Multi-Touch gesture input feature, you can easily zoom in and out to view photos or read documents by just moving two fingertips apart or together on the touchpad. You can also simultaneously slide two fingertips up or down the touchpad—making scrolling in a window easy without the use of a mouse.

Secured data protection with fingerprint scanner

Flexibility for Expansion Card/ 34mm devices to delivers convenient modular expansion.

With embedded Audio/Video codecs, the Eee PC and trade; is able to support multiple movie and music formats—allowing you to enjoy popular movies without complicated format conversion processes.

Easy-to-use and Interactive Solutions
Enjoy High Definition 720p Multimedia Entertainment with equipped ODD.

Hybrid Storage provides you with the flexibility you need to fulfill all of your data storage needs. You can choose to store your files on a built-in hard disk drive (HDD) of up to 120GB or on Eee Storage of up to 10GB. Eee Storage is an exclusive online storage service that allows you to upload and download files via an intuitive drag and drop interface. It also hosts games, wallpapers and customized software that you can download at any time to further enhance your Eee experience.

*Subject to system configuration and/or usage.

Optimizes Viewing Pleasure to Suit All Lighting Conditions
Eee Splendid delivers a more enjoyable viewing experience by optimizing the colors in different usage scenarios–even under the intense glare of the scorching sun! Packed with 4 preset modes (Vivid, Theater, Soft and Outdoor), it can suit different lighting environments quickly and easily, and adjusts the Eee PC's and trade; display settings to help conserve battery life and allow you to watch more movies between each charge.

Connect to Your World via Wireless Connectivity

* With support for 802.11n, you can enjoy faster surfing speeds and high throughput than 802.11b/g wireless standards.
* With built-in Bluetooth support, the Eee PC and trade; lets you easily transfer data between Bluetooth-enabled devices´ and brings forth excellent connectivity where work, learn and play experiences are enhanced by applications that easily connect two or more users remotely.

*Actual performance may vary depending on the configurations, usage patterns, and environmental conditions.
Custom Search