NotebookPartner.hu
»
ASUS Netbook Asus
»
ASUS EPC18PBRN032S Netbook Asus
»
ASUS 1008P-BRN032S EEE-PC 10/N450/1GB/250GB Win7 Starter Barna ASUS netbook mini notebook EPC18PBRN032S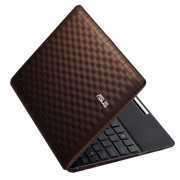 ASUS 1008P-BRN032S EEE-PC 10/N450/1GB/250GB Win7 Starter Barna ASUS netbook mini notebook
10" WSVGA(1024x600) ATOM N450 1.66G,10/100 Mbps Ethernet,WiFi 802.11n,Bluetooth,1GBMB
DDR2,250GB HDD,1.3 Mega Pixel Video camera,Hi-Definition audio CODEC
Built-in stereo speaker
Built-in microphone,3x USB 2.0; 1x VGA; 1x SD/MMC card reader(SDHC); 1x Audio in; 1x Audio out,Output: 19V
up to 6 hrs
Li-polymer (3-cell 2900mAh)) 262mm(W) x 178mm(D) x 25.7mm(H)
1.1kg Windows Win7 Starter
ASUS EPC18PBRN032S Netbook Asus
Kínálatunkban 2010.08.31 szerepelt utoljára
10" WSVGA(1024x600) ATOM N450 1.66G,10/100 Mbps Ethernet,WiFi 802.11n,1GBMB, DDR2,250GB HDD,1.3 Mega Pixel Video camera,Hi-Definition audio CODEC, Built-in stereo speaker, Built-in microphone,3x USB 2.0; 1x VGA; 1x SD/MMC card reader(SDHC); 1x Audio in; 1x Audio out,Output: 19V, up to 6 hrs, Li-polymer (3-cell 2900mAh)) 262mm(W) x 178mm(D) x 25.7mm(H), 1.1kg Windows Win7 Starter

and nbsp;
Eee PC 1008P (Seashell Karim Rashid Collection) gyártói weboldal
Kijelző
10.1" LED Backlight WSVGA Screen (1024x600)
Intel CPU and Chipset
Intel and reg; Atom and trade; N450
Memória
DDR2 SO-DIMM 1GB
Wireless
Data Network
WLAN 802.11b/g/n @2.4GHz
BluetoothV2.1 + EDR*
*Optional
Hybrid Tárolás
250GB/320GB 2.5" SATA2 HDD 5400rpm
500GB ASUS WebStorage*
*Complimentary one-year 500GB ASUS WebStorage trial. Please visit www.webstorage.com for more details. Specifications are subject to change without prior notice.
Kamera
1.3M Pixels
Audio
Hi-Definition Audio CODEC
Stereo Speakers
Digital Array Mic
Ki-/Bemenet
1 x Mini VGA Connector
2 x USB 2.0
1 x LAN RJ-45
2 x
Audio
Jack (Headphone / Mic-in)
Card Reader: MMC/SD(SDHC)
Akkumulátor
Slim and eco-friendly Li-polymer Akkumulátor, 6hrs*
*Operation lifetime subject to product model, normal usage conditions and configurations. For more information, please visit here. The estimated maximum battery life in Windows and reg; 7 is measured with MobileMark and reg; 2007.
Méretek
262mm (W) x 180mm (D) x 26.2mm (H)
Súly
1.145kg (2.53lbs)
Custom Search